2019 Southern Oregon Home Show
Description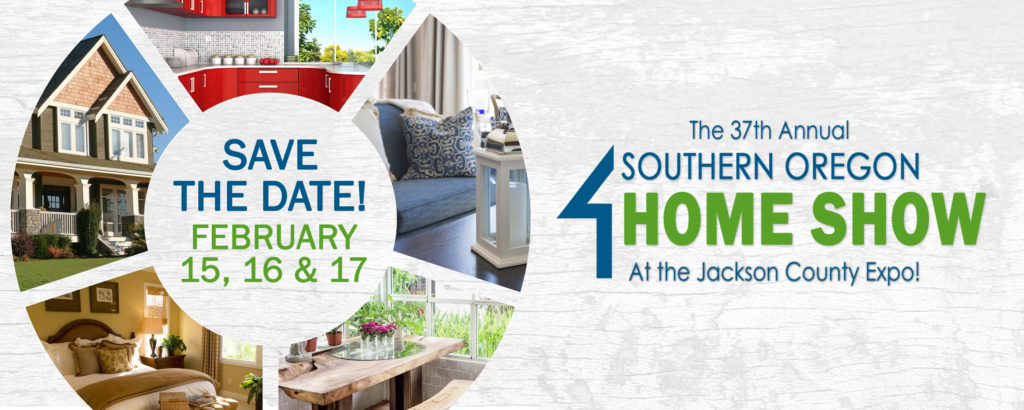 2019 Southern Oregon Home Show
HOME SHOW DATES AND HOURS
Friday, February 15 • 10 – 5 pm
Saturday, February 16 • 10 am – 5 pm
Sunday, February 17 • ­10 am – 4 pm
Location: Jackson County Expo | 1 Peninger Road, Central Point, Oregon 97502
Cost: Friday, Saturday & Sunday: $5
Friday is Free from 10-12
Kids under 12 Free: Cash Only : ATM on site
Follow Us on Facebook and Instagram for Home Show Highlights including;
vendor spotlights, classes, sponsor appreciation and live behind the scene tours and stories.
Find us on Facebook:
https://www.facebook.com/southernoregonhomeshow
OR on Instagram:
https://www.instagram.com/baso_homeshows
Click Here for 2019 Home Show FAQs
2019 Home Show is Presented by:
Builders Association Southern Oregon
Advertise in the Home Show Directory
Southern Oregon Home Show Application
The Home Show is a home-centric event designed for all stages of building, remodeling,
landscaping and decorating with over 10,000 attendees!
The Home Show includes over 200 of home improvement and landscaping exhibits with product
demonstrations and sample interior and exterior vignettes. With a combination of new products
and expert advice from the pros, the Home Show inspires homeowners with countless ideas on
enhancing their home's comfort and functionality, as well as its aesthetic appeal and overall value.
You'll have the opportunity to speak directly with experts and receive helpful "insiders" advice to
turn your dream home or other home improvement project into a reality. From foundations to roofs,
kitchens to baths, landscaping to interior design – the experts will be here – under one roof – for one weekend!
Plan to attend seminars: We will have a variety of seminars whose topics include everything from
buying a house, gardening, solar, aeroponics and much more!
The complete list of seminars will be available closer to show time.

First-Annual Tiny Home Build-A-Thon
Click Here for More Information>>>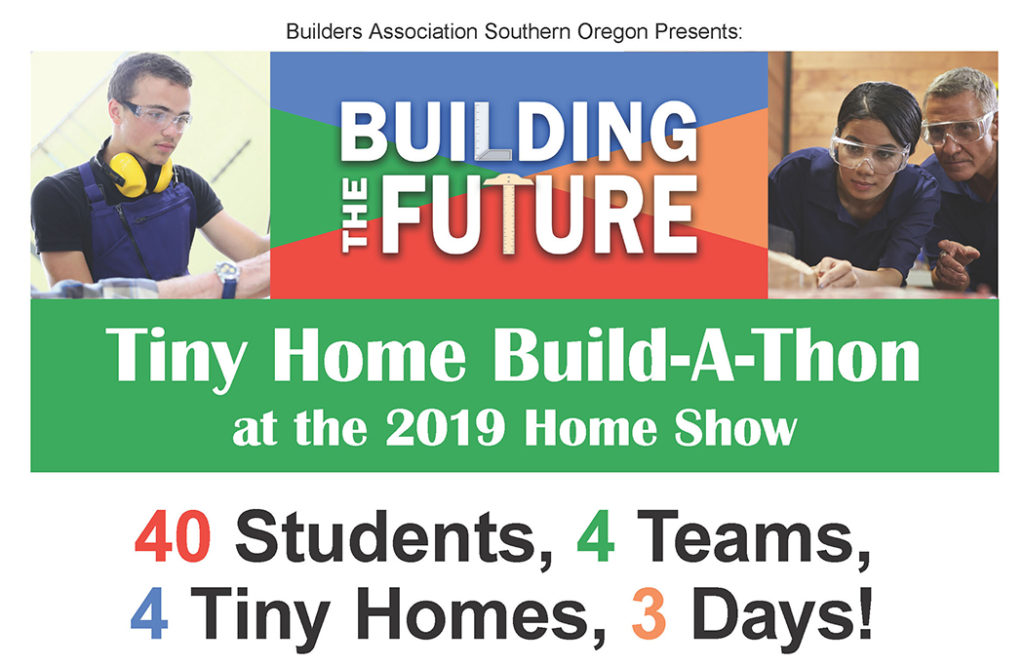 About Builders Association of Southern Oregon (BASO)
The Builders Association Southern Oregon is a non-profit trade organization representing the
building industry in Southern Oregon. We provide industry information and education to our members
and the public. BASO is your trusted resource to find builders, subcontractors, suppliers, financiers
and landscapers to help you build or remodel your home.


Friday, February 15
11:00-11:45am – How to Buy a Home for the Least Amount of Cash | Fairway Independent Mortgage
12:00-12:45pm – Designing Your 2019 Remodel | Butler Design
1:00-1:45pm – Solar Power for Your Home | True South Solar
2:00-2:45pm – Healthy Living Revolution: The Power of the Tower Garden | Juice Plus Company
Saturday, February 16
11:00-11:45am – A Tidy Home 2019 | Butler Design
12:00-12:45pm – You Are What You Eat for pets! | Nature's Pet Medford & Ashland
1:00-1:45pm – Detox Your Home – Cleaning with Essential Oils | Doterra
2:00-2:45pm – 7 Epic Renovation Tips | Builders Association Southern Oregon
Sunday, February 17
11:00-11:45am – Water Wells Simplified | Clouser Drilling
12:00-12:45pm – First Time Home Buyers | ReMax Platinum
1:00-1:45pm – What Sustainable Building Materials Would You Choose | PSE Consulting Engineers Inc.
For more information contact: Jessica Bennington, Event Director
jessica@buildso.com | buildso.com
Builders Association Southern Oregon
P: 541-773-2872 | F: 541-773-1189
Images